"Techniqe and intention go hand in hand"
Darlene Ann Dobisch has taught voice to a variety  of students with diverse goals for over 20 years. From professional opera singers to hobby pop singers, the teaching is personally tailored to the student. Learning a healthy technique in a joyful manner is the focus, and a combination of discipline and fun are both essential parts of the lesson.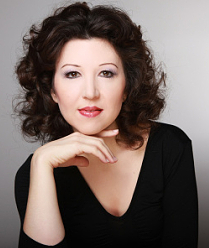 Darlene studied voice performance at Clark University (Bachelor of Arts) and at the University of Michigan (Master of Music) with a focus on pedagogy and received a certificate for teaching music at the high school level in the state of Massachusetts. She also completed an intensive seminar on vocal pedagogy at the University of Michigan. Many of her students perform professionally in Berlin, Hamburg and Graz, among other places and she has successfully prepared many young candidates for admission to schools and colleges of music in both Germany and America.