"Technique and Interpretation go hand in hand."
Darlene Ann Dobisch is a lecturer for vocal pedagogy and voice at the Johannes-Brahms-Conservatory in Hamburg and a voice teacher at the State Music School Glinde e.V. She has been teaching voice passionately since she was a student herself and works with singers of various ages with varying goals. Her teaching is personally tailored to the student and she supports a natural, healthy, and joyful approach to the voice.
Her broad knowledge of vocal function and many years of stage experience allow her to help students achieve the necessary connection of technique and interpretation through holistic training of the singing voice. Due to her intensive experience as a professional choral singer, she also carries out vocal training for choral singers, and gives worshops and masterclasses internationally.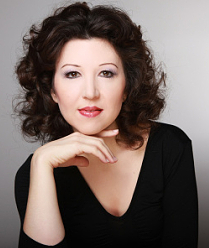 Darlene Dobisch studied vocal performance at Clark University (Bachelor of Arts) and the University of Michigan (Master of Music) with a focus on general and vocal pedagogy. Her endless curiousity for the voice leads her to participate regularly in seminars and symposiums. Many of her students perform in various international theaters and she has successfully prepared many candidates for auditions to colleges of music in Germany and the United States.