Biography
---
Internationally acclaimed in the role of the Queen of the Night, Darlene Ann Dobisch was born and brought up in Hardwick, MA. She graduated with honors in voice from Clark University, the University of Michigan, and after moving to Europe in 2000, from the Luebeck Conservatory of Music. Mentors include Phyllis Curtin, Maria Ferrante, Martha Sheil, Judith Beckmann, James Wagner, Martin Katz, Ulf Bästlein, Charles Spencer, Shirley Verrett, and Seiji Ozawa. She won the Robert P. Manero Music Prize, was a finalist for the Rolf Mares Prize, and has received numerous scholarships.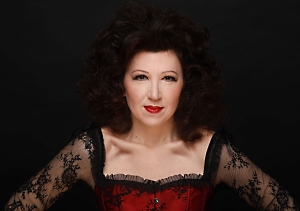 Ms. Dobisch has had engagements with the NDR Chorus, as a soubrette at Theater Neustrelitz, and for numerous lyric coloratura roles at Opernloft, Hamburg. She has performed the Queen of the Night in various productions of Mozart's "Magic Flute" over 200 times.
Her busy concert schedule takes her through Europe and North America on a regular basis. Since 2005, Ms. Dobisch has been performing with Berlin Conductor, Pianist, and Stage Director, Christoph Hagel and the Berlin Symphony Orchestra. Under his direction she has sung the Queen of the Night in the internationally acclaimed The Magic Flute in the Subway, Genio in Haydn's "Orpheus and Euridice," the Countess in "The Marriage of Figaro," Gabriel/Eva in Haydn's "The Creation," and the soprano solos in Bach's "St. John Passion," fully staged in the Berlin Cathedral.
She is currently singing the Queen of the Night in the cross-over event, "Breakin' Mozart" with Mr. Hagel and the DDC Break Dancing Company. Since its premiere at the Mozart Festival in Würzburg, there have been performances at the Philharmonic and Prince Regent Theater in Munich, the Philharmonic in Berlin, Technopolis in Athens, Greece, Museums Quarter in Vienna, and many other venues. The show will continue on tour throughout 2020 throughout Europe.
Ms. Dobisch conducts master classes and workshops internationally and teaches voice in music schools and privately in the Hamburg area.